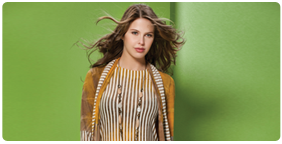 Seden Triko stepped into the knitting industry in 1996. Within a short time, we have gained a very important place in Turkish garment market and have started to make an important contribution to Turkish economy. We expanded our product portfolio in 2003 and started to produce all kind of garments for ladies as well as tricot garments and sped up our studies in going retail and opening brand stores activities. In 2006, we decided to remove the "Triko" word in our brand and continue our journey as "Seden" brand.
We are creating unique styles with the help of our designers who follow up the latest trends in the World Fashion Centers and unite these trends with Turkish culture. We have been attending to the important fashion exhibitions both inland and abroad and have been presenting our designs to local and foreigner customers.

We have 2 factories in Turkey, one of which is in Istanbul and the other one is in Konya City. In these two factories we have the capacity to produce 150.000 pcs knitwear garments, 200.000 knitting-jersey garments and 50.000 pcs woven garments in a year. We distribute our products to all over Turkey from our warehouses in Konya and Istanbul. We present our latest design garments to Turkish ladies in our 10 brand stores in Konya, Istanbul, Kayseri, Eregli and Denizli Provinces.

Our company which has ISO 9001 – 2000 Quality Control Certificate also presents its unique designs to the ladies in different countries like Germany, Spain, France, Russian, Middle East and C.I.S countries which we export %30 of our production to. We have became an essential brand for lady wear with our modern line, style, wide product portfolio and our increasing trend day by day.